Retrofitted low carbon cottage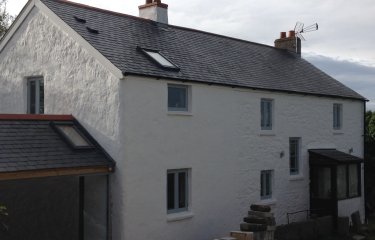 Energy-saving improvements
High spec heating

Renewables: heat

Renewables: electricity

Lifestyle change

Recommended
Location
Trenoweth Lane, Trenoweth Lane
Mabe Burnthouse
Penryn
Cornwall
TR10 9HZ
Opening times
5 - 11 Oct 2015
This property will be open for visitors between 10am and 4pm on Thursday 9th October and Saturday 11th October.

People can contact the host, Ruth, directly via email: ruth.smith@zlcenergy.co.uk
This event has now finished.
Just turn up
The hosts of this property have extensively refurbished an 1850s traditional Cornish granite cottage, installing under floor heating and an inverter driven ground source heat pump. The heat pump is powered by solar PV. The hosts have also installed a Wattstor energy management system to trial using the ground source heat pipework as a thermal store through the summer months to store excess PV generation.
Location
Trenoweth Lane, Trenoweth Lane
Mabe Burnthouse
Penryn
Cornwall
TR10 9HZ
Opening times
This event has now finished.
Other homes nearby